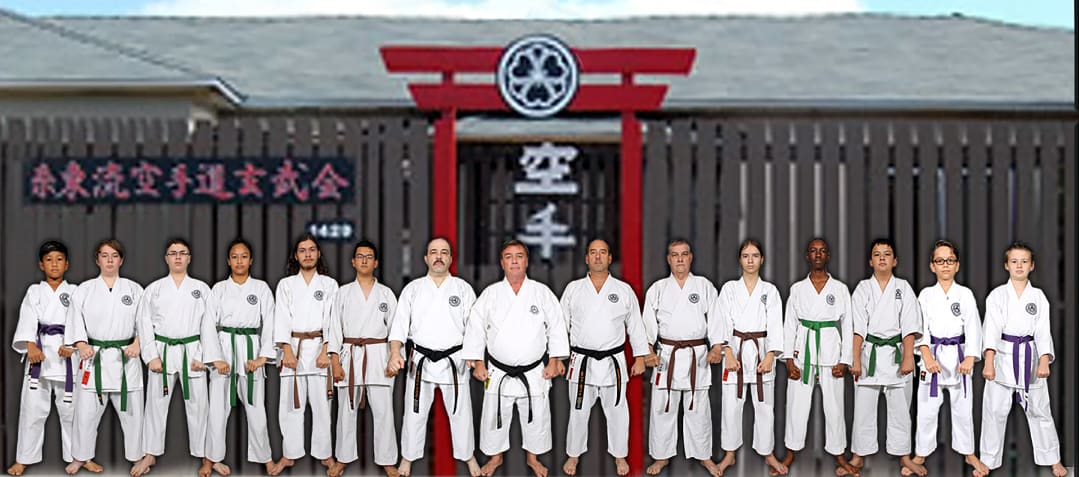 Staff
Japan Karate-Do Genbu-Kai International is a worldwide organization, with schools distributed in practically every state of the USA. The head director is Shihan Fumio Demura, who very frequently visits the USA branches, and branches worldwide. In Florida, Japan Karate-Do Genbu-Kai is directed by Sensei Keith Moore, who is based in the West Palm Beach area. Originally from Syracuse, New York, Sensei Moore set out to share his knowledge and teaching in the art of Shito-Ryu Karate-Do Genbu-Kai to all people regardless of age, sex, disability, or race.
All of our instructors are carefully chosen, first for their ability in this Art, and, equally important, for their dedication and proficiency in teaching. They attend a weekly class for instructors held by high-ranking experts from Japan. The standards of the Japan Karate-do Genbu-kai of America are exactly as those in Japan. Our policy of exchange students and instructors in which Japanese experts visit our group and our members make frequent visits to schools in Japan, bears out this fact.
While Florida has various studios and types of Karate, some are highly respected and others are of questionable merits. For this reason, Shihan Demura has made sure that the instructors of this school are among our best black belts, who are completely reliable and qualified to teach the best methods possible.
Our dojo is not only a highly trained facility to learn self-defense or the techniques of this powerful Martial Art, it is simply much more than that.
Japan Karate-Do Genbu-Kai of Florida is discipline and control, taught directly not only for the purpose of self-defense development, but also indirectly oriented to many uses in our regular life. Our organization help builds character in young individuals, and strength towards mature adults; encourages courage in women and respect in men; and in addition to maintain physical shape and healthy condition, it also enhances our intellectual state and our mind control.
Some of the aspects we mentioned before, carefully blending the old-traditional Japanese convention with today's western lifestyle. Feel free to contact us if you would like additional information, or would like us to tailor specific classes for your organization, groups, individuals, or private training. We can also provide customized demonstrations and exhibitions in community's events, charitable parties, benefits, schools, and similar organizations.